October 4, 2009
Dear Friends:
Your support of Tour of Discovery during this summer was invaluable. Your generous words of encouragement, financial sponsorship, and the purchase of Green Miles wristbands contributed enormously to the success of this cross-country cycling expedition.

I wish to thank you in person and have the opportunity to tell the story about my journey. It is my pleasure to invite you to attend a free panel discussion organized by Nova Southeastern University.
For details, please see below.
Kind Regards,

Rafael Giraldo
www.rafaelgiraldo.com
Schoolteacher Who Biked Across America to Display Photos of Journey
Where: Nova Southeastern University is holding a free panel discussion featuring Giraldo at the Don Taft University Center at the main campus in Davie.

When: The discussion is open to the public. It is this Thursday, October 8th at 7 p.m. in the Don Taft University Center, third floor, room PVA 309.

Who: Panelists include Giraldo, Timothy Dixon, professor of history and legal studies at NSU, Daniel Markarian, NSU program professor for social studies, and Tim Petraitis, a U.S. history teacher at Cypress Bay High School.
Tony Fins, editorial page editor at the Sun-Sentinel, will moderate the panel. It will be an informal coffee table-style discussion, which will feature an exchange of dialogue between the panelists.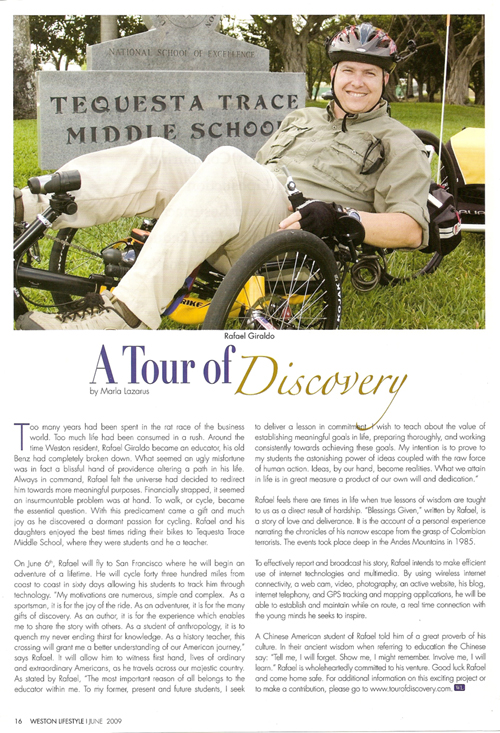 To read the article, click here or on the image.

August 25, 2009

Media Release

On June 6, 2009 our Weston resident, and middle school teacher Rafael Giraldo started an 80-day cross-country cycling trek called Tour of Discovery. As an educator wishing to inspire and teach his students, he has used his journey to convey a lesson in commitment and about the value of establishing meaningful goals in life. With the use of GPS tracking technology, and in combination with his web site, Mr. Giraldo has shared through digital photography, videos, and his blog, the experience of his continental crossing with students and the local, national, and international communities.

Tour of Discovery started in San Francisco, CA and has taken this educator to Saint Augustine, FL after crossing 11 states: California, Nevada, Utah, Colorado, Kansas, Missouri, Arkansas, Tennessee, Mississippi, Alabama, and Florida. Mr. Giraldo has faced many difficulties to accomplish his goal of teaching his important lesson. He conquered the snow of Carson Pass in the Sierra Nevada in California; surpassed more than 24 summits in Nevada, faced the desert and its sandstorms in Utah, ascended to Monarch Pass at 11, 312 ft in Colorado, and survived terrible storms in the Great Plains.

On Sunday, August 30th Mr. Giraldo seeks to finish the last leg of his journey as he rides back into our beloved city of Weston. Come join us as we welcome him home. For information on this homecoming event feel free to contact Mr. Hans Meijer at: 954-608-3139 or hansmeijer@bellsouth.net

***********

El 6 de Junio del 2009 un residente de Weston, y profesor de escuela intermedia, Rafael Giraldo comenzó una gira ciclista de 80 días cruzando de costa a costa nuestro país. Como educador, el profesor Giraldo hizo uso de su gira denominada Tour of Discovery para enseñar acerca de la importancia del compromiso y de establecimiento de metas significativas en la vida. Con la ayuda de tecnología de rastreo GPS y en combinación con su pagina Web, el Sr. Giraldo ha compartido por medio de fotografía digital, videos y sus escritos, su experiencia de este cruce continental con los estudiantes y la comunidades local, nacional, e internacional.

Tour of Discovery comenzó en San Francisco, CA y ha llevado a este educador a San Agustín, FL luego de cruzar 11 estados: California, Nevada, Utah, Colorado, Kansas, Missouri, Arkansas, Tennessee, Mississippi, Alabama, y Florida. El Sr. Giraldo encontro muchas dificultades para lograr su objetivo y enseñar su importante lección. Conquisto las nieves de Carson Pass en la Sierra Nevada de California, sobrepaso más de 24 cimas en Nevada, confronto el desierto y sus tormentas de arena en Utah, ascendio a Monarch Pass a 11,312 pies de altura en Colorado, y sobrevivio terribles tormentas en los Grandes Llanos.

El Domingo, 30 de Agosto el Sr. Giraldo busca terminar su ultimo trayecto de su viaje al llegar a nuestra bien amada ciudad de Weston. Acompáñenos a darle la bienvenida a casa. Para información sobre este evento favor contactar al Sr. Hans Meijer en el teléfono: 954-608-3139 o a hansmeijer@bellsouth.net